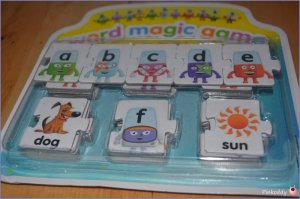 Our little Sensory Seeker is doing much better than we imagined at school but is still developmentally far behind his peers in many areas. In fact he only got one tick in the expected box at the end of the Reception year. Although we are not going to worry about it, it is always nice to hear of fun ways we can tap into the way he learns best and give him a helping hand. Therefore when I heard about how Alphablocks magazine had launched a multi-sensory Alphablocks Reading Programme to support foundation stage children develop and progress their reading ability. The programme consists of 15 Alphablocks Reading Programme magazines and Alphablocks resources – including finger puppets, letter tiles, games, pencil and pencil case, flashcards,  stickers and gold stars to reward the achievements. Split into 3 packs that build on each of the stages of development – £39.99 (plus p&p)
Pack 1 is Red and Orange levels (first steps and next steps
Alphablocks: Introducing the alphabet and its sounds
It is important that children learn the correct sounds for each of the letters. If you are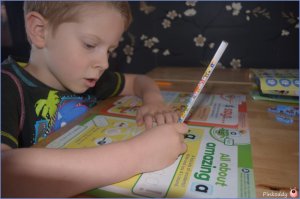 unsure then visit the website. They may also learn actions to accompany the sounds, to help them better remember. Our Sensory Seeker is in year 1 now as so already has amazed us by learning all his first sounds so this really helped developed his confidence. It made it less of a challenge to encourage him to practise writing these sounds too. Again this is organised progressively and I was able to stop and move onto the next letter when the task became too difficult for him.
Blending
I was worried that our Sensory Seeker wouldn't get blending. It must be extra hard for him to try to filter out the extra sensory input whilst he remembers the sounds and tries to put them together again. This is really important for his Phonics test at the end of year 1. In this children are given 40 words and nonsense words that can be phonetically sounded out. The children need to use the rules of phonics with the correct sounds even for the nonsense words, to demonstrate that they understand the rules of phonics.
Alphablocks: High Frequency Words
High frequency words are those that cannot be sounded out phonetically (such as THE). To read them then you just have to remember what they say by sight. We have them attached to walls and doors around our house. By the end of the Reception year children should know 45 high frequency words. Our Sensory Seeker could read about 10 when going into Year 1 so I was pleased to see so many fun ways to help him catch up with his peers.
Pack 2: Yellow Level (arriving December 2014)
After the first 2 levels in pack 1, pack 2 moves onto Diagraphs. Diagraphs are when two letters make a team to form one sound – such as ch and sh. They can appear at the beginning, middle and/or end of a word. For example when you think of the word "church" it starts with a "ch" sound not a "c" "h."
Pack 3: Blue and Green Levels (arriving Easter 2015)
This final stage moves onto words with letter blends, magic E (also known as a split diagraph eg. A_E), and long vowels. The programme concludes with a certificate.
What I thought to the Alphablocks Reading Programme
I liked all the different sensory input for my son. So many different visuals, puppets for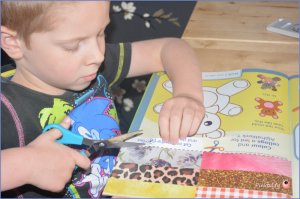 tactile, stickers to help develop his hands – obviously writing and drawing practise, cutting and gluing – all good for fine motor skills. I liked how it is very much focused on fun and that it can be done at our Sensory Seeker's own pace. It is so straight-forward that many different members of the family have been able to engage him into the activities and games. It was also easy to adapt – we used some bubble wrap to pop when on the popping balloons activity (good for fine motor and tactile stimulation).  I like how the resources include the diagraphs, and hope that the next pack has trigraphs (sounds made with 3 letters).

I'd love to see the series continue onto homophones (words that are pronounced the same as another word but differs in meaning, and sometimes also spelling) and other things they will be required to know grammar-wise for their SATs in Year 2. The box was very comprehensively packed with resources so it would have been nice if everything required was readily available (pencil crayons, scissors and glue were still required). All in all though I thought that the pack was absolutely amazing and a fantastic price (think how much you pay for those foreign language courses!) – as well as being a lot of fun.
You may also be interested in my Writing Skills Development post.
We received this programme free in return for an honest review. I will update further when the other 2 packs arrive. All words and opinions are my own.