Behind in Literacy
My little boy is behind his peers academically in every area apart from technology. He has what is known as a Global Developmental Delay – or at least that's what I think he has. I guess he's one of the SWANS – that is kids without an actual diagnosis. They decided what he didn't have and that was it. I guess he is currently being supported and that is the main thing. But his school don't just support children like mine – they support all children. So currently they are running a course on helping the Year 1s with their Literacy. The tutor told us that most people think about Reading, but Literacy covers speaking and listening, as well as reading and writing. Some of the session is work with just the parents, and then we bring the children in.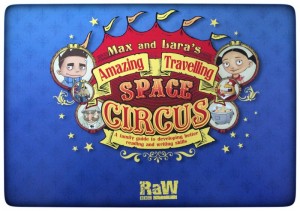 First she read some of the story of "Max and Lara's Amazing Travelling Space Circus." Then we had to discuss with the children about what they thought about the two main characters Max and Lara. We had a sheet with ideas of what to ask them (hair colour, favourite food, etc). I was really surprised (and proud) of how well my son did at the task so it was nice to try a fresh approach. I loved how all the fun things we have done about the Gruffalo had obviously made a difference as he talked of Gruffalo crumble and scrambled snake. It really brought home to me that all I need to do to help my son with his Literacy is just to keep having fun with him with it. Then he was able to draw his characters – and I talked about what he had said about them (eg remember you said she had big ear lobes).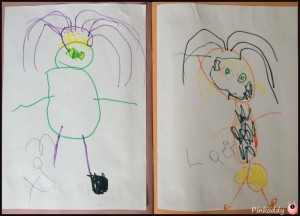 Fun Literacy Ideas 
 Sign Language Alphabet – Home Schooling with ADHD
Roll and say Fall ABC Game – Fantastic Fun and Learning
Alphabet Matching Activity – Sand in my toes
ABC Letters – LalyMom
Preschool Writing Activity – Letters to Family – Mom Inspired Life
Books for kids not ready for Harry Potter – What do we do all day?
Creative Alphabet Activities – Gift of Curiosity
Free ABC handwriting practice pages – Embark on the Journey
B is for Butterfly – A Little Pinch of Perfect
Spelling Activities – B-Inspired Mama
Sight Word Stackers – JDaniel4's Mum
Alphabet Glass Gems – Rubber Boots and Elf Shoes
October books for 2 and 3 year olds – Planet Smarty Pants