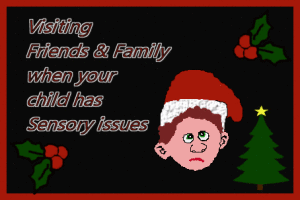 Christmas is a time when we go visiting a lot of family and friends which can be difficult for individuals with Sensory Processing Disorder. But when it comes to Sensory Processing Disorder techniques to help with Christmas, what works for one individual will not necessarily work for another. You need to look at the individual's Sensory Make-up – each of the seven senses (vision (sight), tactile (touch), auditory (hearing), gustatory (taste), Vestibular (movement & gravity), olfactory (smell) and proprioception (sense of body position, from information received through the muscles, and joints – force, speed and control) and whether there is a problem filtering with too much, too little or a mix of the two) and determine what their individual needs are based on that.
Problems visiting Family & Friends for individuals with Sensory Processing Disorder at Christmas
The individual with Sensory Processing Disorder may very well not like change: The brain is already struggling to make sense of the World without added pressures of it constantly changing. At Christmas people often go visiting friends and family that they do not see regularly, which can be hard on the individual with Sensory Processing Disorder. Added to that is the environment can be greatly heightened with lights, noise, and extra people – which can be quite an overload for the resister or they may want to touch, hug squeeze more (for example) if they are a Sensory Seeker.
Sensory Processing Strategies for Coping with visiting family and friends this Christmas
Planning. If possible know as much about what is going to happen as you can. This means you can prepare. Knowing how far it is, how long you will be, what will happen, who will be there will greatly improve the likelihood of smooth visiting.
How far: Will they need something to keep them calm on the journey. We have a ds, tablet and in car dvd player.  If there is an unexpected long journey with have apps on our phone. Although this is advice for any child to stop them becoming bored when visiting family and friends, for those with Sensory Processing Disorder it can help them calm down and remain focused.
How long: Knowing how long visiting will last can help better prepare the individual with Sensory Processing Disorder. Make sure you explain things in terms they understand; for example with the use of time. It would be no use telling our Sensory Seeker that we would be visiting until 7pm, but he would understand if we told him that the visit would end by bedtime. It also helps prepare for whether other things need to be packed – do they need to take an activity, favourite toy, ipad/ds, etc – are they likely to have an "accident" and need a change of clothes packing, will they need something to ensure they eat/drink – like a special cup? Are their Sensory Issues likely to become a problem whilst they are there? Do you need to take things to help deal with those issues whilst still there (will you need a weighted blanket/lappad with you, head phones, eye mask/sunglasses, squeezy, chewy or favourite toy.
What will happen whilst visiting and who will be there: if you can talk to them before you go then they can be prepared. If it is a party situation then it may be noisy – music and party poppers, or additional lights (see this guide on parties as it will be pretty similar). Is it possible to arrange a safe place to go, do they know where the toilet is – or who they should ask about it? Will there be people they do not know? Do they know what to do if someone wants to hug or kiss them? If they do not like it may be they could offer a hi-five or to offer to shake hands instead. Have they got something to help them cope if they want to kiss/hug people more than is socially acceptable (I tend to get him to come and give me a bear squeeze instead).
If you can think of any other problems and/or solutions for visiting family and friends at Christmas for the individual with Sensory Processing Disorder then please do reply below.