Many people whose children have Sensory Processing Disorder may find that they struggle when it comes to hair washing . The anticipation of water coming can be a threat to the nervous system, with the feel of water being uncomfortable or even painful when it hits the skin. It may be the temperature of the water. Children who over-register tactile input may also over-register temperature, they may feel things in extremes – so something cool could be experienced as bitterly cold; and something warm as scorching hot.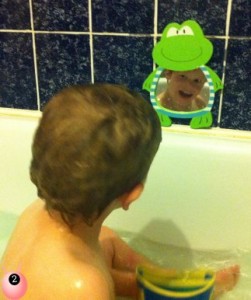 It important to consider that there are a lot of factors as to why a child does not like hair washing , and important to think about them individually. One of the ways to help a child is to slowly break it down into small steps. Explain what is happening and slowly build up to what you wish to achieve. It may be that they refuse even to go into the bathroom, for instance, so just start by letting them go in and then leave again straight away. Then build up to getting them to stay in there a little while: Until slowly you can eliminate a fear of the room. If they still are screaming just going in the room then it may well be worth considering changing the colour, feel, or flooring of the room. It may be you just need a new air freshener or a new rug. Try adding things that appeal to them – maybe with the use of bathroom tile stickers of say dinosaurs. Make it fun – provide plenty of bathroom toys.
The most important thing is to let them guide you. Try to establish what is upsetting them, rather than just trying to force them to do something that you feel they ought to do. Believe me I have a teenager with Aspergers – no-one died from not washing for a little while. Let them decide on the temperature of the water for example.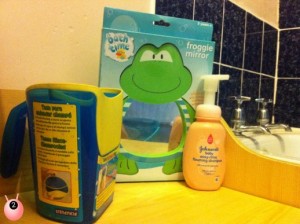 We were thrilled to try the JOHNSON'S CHALLENGE, with New JOHNSON'S Baby Easy-Rinse Foaming Shampoo, because it really did fit with where we are with our little Sensory Seeker. He is about to start school and needs a hand with his independence and more of an understanding about personal hygiene.
Challenge 1 DIY Fun Factor: this gave us the option of letting him wash his hair – so he had full control. I was really pleased to say that he managed the pump action soap (with a little difficulty at first), largely unaided. This is good for a few reasons – them being that he is hypermobile in his hands and all manner of other terms the occupational therapist said to me and forgot – but basically he needs to do certain things to strengthen them. That he didn't get too much shampoo, as a seeker I expected him to just keep pumping it out, but he never, he was happy with the right amount and happily lathered it into his hair. I was also supplied with a frog mirror and jug for him to be able to see what he was doing whilst controlling where the water was going. We have also found that a mirror has been a great help in brushing his teeth. If he can see what is happening he is a lot less distressed. I believe it is because it makes things more predictable.
Challenge 2 Funky Foam Fun: This was about seeing what funky foam hairstyles you could make – this happened rather quickly as he is a sensory seeker and so was very keen to start tipping the water over his head again.
Challenge 3 Rinse Ease:
100% of the mums  who had already tested the shampoo agreed that it was easy to rinse off.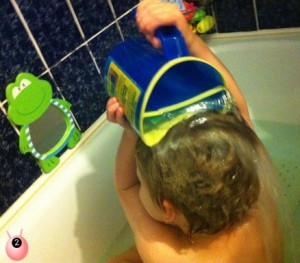 Yes I can agree there too – his hair is curly (although quiet short at the moment) and can be really difficult to get the bubbles out (one of the things I feel adds to his distress), but these bubbles came out with ease when he washed it himself. There was no need for me to help with extra rinsing.
94% also agreed that it made shampooing delightful.
It was indeed a delight to see him so happy to wash his own hair. It was such a proud milestone for me and made me feel very proud.
And 70% agreed that the shampoo kept the fun going all through bath time.
To be honest we have quiet fun bath times, so although it was nice to see him so happy to wash his hair it wasn't the reason that the whole bath time was fun.
I received a free bottle of JOHNSON'S Baby Easy-Rinse Foaming Shampoo, a frog mirror, and jug. I have not been compensated in any other way. All opinions are completely honest and my own.