Thank You Teacher Gifts and SEN
When you have a child with Special Needs in school you may find that they have many different people inputting into their education. So when it comes to Thank You Teacher gifts (I stick to the end of the academy year) then you may find that there are quite a few people to cater for. Personally I find home-made gifts not only cheaper but that the personal touch will mean much more than just a bunch of flowers/bottle of wine/chocolates. What a real special keepsake to remind them just how far they have managed to get the child to come.
I am super proud of my Sensory Seeker and very grateful for all that the school have helped him develop with. Some of his achievements are that:
What my Sensory Seeker can do now:
He can write his name.
He knows all of his phonetic sounds.
He can count to ten and recognise all the numbers in figure form.
He has become a lot more independent with many day-to-day activities that he previously could not.
He can recount the whole story of the 3 Little Pigs, in the right order.
He has better attention, more patience and good listening skills.
I am sure that there is much much more, every day he makes me so proud.
With just over 2 months until they break up for the Summer and he moves onto a new teacher I thought it a good time to start looking at some Teacher gifts craft ideas that may be easy enough for him to do.
Things to consider when making Thank You Teacher Gifts with a Child with Special Needs
The child's ability. You can help them as much or as little as they need. Maybe they can paint but not precisely – how about a pet rocks as teacher gifts  – simply by painting a rock and adding googly eyes. How about painting a  toilet roll holder, adding a bottom to it with card, and putting some pencils in it – viola stationery holder.  Or how about using stickers to make simple teacher gifts.  Maybe they are good at colouring? Or like it in the kitchen. Are they a sensory seeker or avoider? If they are avoiding then something like a fingerprint tree may be good as you can just do 1, or as many prints as they will allow to help them get used to the sensation of the paint. Also maybe consider in what areas they have developed – my son has improved with his writing so it would be nice for that to be reflected in the gift.
Think about how long their attention span is. Can they sit to do the craft, or would running and jumping in and out of paint suit them better?
Be prepared for them to follow their own rules and for it not to turn out exactly how you had it in mind.
Reinforce their achievement and be proud, especially if they have struggled or found it hard to focus. A teacher gift is meant to be made with love.
Sensory Seekers will enjoy lots of textures and smells if you can incorporate them into your Teacher gifts.
Background music will help your Sensory Seeker and a quiet room your Sensory Avoider.
Think about how you will calm them down or clean them up. We have a bowl of water and towel next to the paint – as he has a tendency to paint himself and I don't want all the walls and furniture covered.
Here is a simple idea – make a tape measure by marking out on a yellow piece of paper, then let your child tape it to a flower pot. You can either get your child to grow a flower or buy one. Then attach a note saying "Thank you for helping me grow!"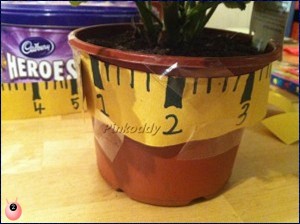 What problems and strategies do you have when it comes to craft with your child with additional needs?