Maths Skills Learning Through Play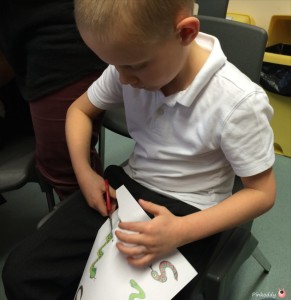 This week I started a Maths course with my youngest 2 boys. Every Monday afternoon for 5 weeks I go to their school for a couple of hours. The first hour the tutor talks to the adults and the second hour the children come in. This first week was a lot of form filling, rules and red tape as well as explaining a bit about the course and Maths in schools. The reason I wanted to do this with both my children is that there may only be one school year between them but there's a massive academic gap due to The Sensory Seeker's Global Developmental Delay and the older of the two being exceptionally bright. This often means that it is The Sensory Seeker that has the attention and the older one is left to get on with things. I suggested that we all go so that the older one could help his younger brother. I thought this family time together would be beneficial to us all. This first week what I learnt that the best way to bridge this gap is by learning through play.
Maths Skills A Home Made Snakes and Ladders Game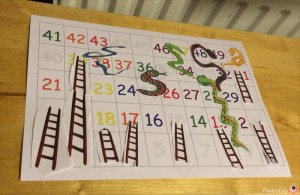 This week's Maths Skills activity was to make a Snakes and Ladders game. The boys were given a net of a dice which they had to cut out and fold together, a sheet with numbers on, a sheet with snakes & another with ladders – to cut out and glue on in the required places. The Sensory Seeker had the ladders and the older of the two boys had the snakes. I was actually really impressed with how The Sensory Seeker coped with the task and just got on with it. It was actually the older one who wanted the help with his snakes.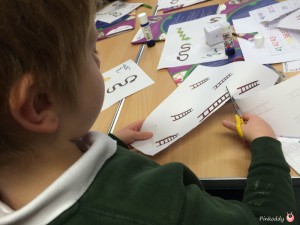 This was good for Maths Skills; fine motor skills, number, the concept of addition and subtraction (up the ladders and down the snakes), and they made a dice (learning that the 2 sides add up to 7). My older of the two boys did ask what it had to do with Maths and it was nice to see that by playing together they could both enjoy the subject. Of course playing games then has many skills such as counting, turn-taking, etc.