Work destroyed – torn to pieces and coloured over, head butting, saying inappropriate things, playing with food, not eating favourite foods on an already limited diet, not sleeping, standing on his hand, spinning, attacking his brothers and smearing ice-cream all over his face. Yes this is the first three weeks of the school holidays. But you know what – it is going well!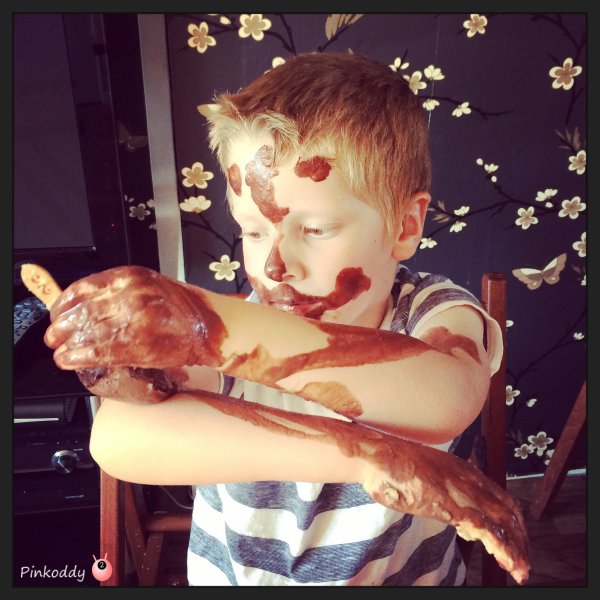 Ways to cope with The School Holidays and The Sensory Seeker
The fact that I can even list what my 5 year old has done that is a tad bit stressful so far these holidays is real progress. In fact a lot of them were one off incidents instead of daily occurrences. In fact the reason I am even able to write this is that the school holidays are going so well that he has gone off to a summer day football session. It is at his school with a familiar adult but still a massive step forwards. I think that the two key ingredients for me are that I am not letting myself get wound up about them (he can't help it and it must be worse for him) and trying to ensure he has a sensory diet to lower the risk of him not being able to cope.
Listening to The Sensory Seeker
I have stopped trying to force him to do things because I fear he will become an adult that can never do them. For example we missed seeing The Lost Dinosaur when we went to The Eden Project because he really could not cope with the sensory input anymore. The barefoot trail really helped him but he was really struggling. We have learnt to watch and listen for his cues and act on them. In this case we removed him from the situation and went back to the holiday park.
Diet and The Sensory Seeker
The food thing is so frustrating but actually relaxing about it has been what has worked for me. So what if he has smeared food all over himself before eating it, yes not the most hygienic but it won't kill him. Surely it is better than him not eating at all. I am careful as to how many foods I give him, make sure they are not touching, something I know he does like. I never expect him to eat anything – even things he does like. I am prepared to barter with him to get him to eat something healthy. He is learning to understand about when he is at school and when he is not. He has shown this by telling us that he can have pancakes on non-school days (they take time to make and wash up after). Just before the holidays ended he decided that he did not like chicken roll – which was the only sandwich filling he would eat before! Now he only wants to eat wraps. There's no point in making a battle of it I just listen to what he wants.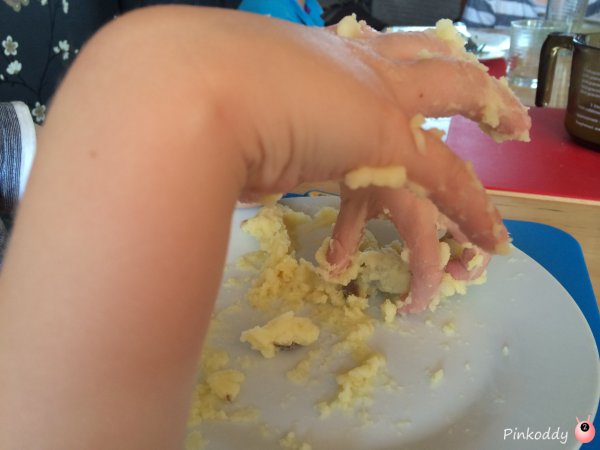 Things that have really helped with our Sensory Seeker and the School holidays
A paddling pool – we have a big pool outside and he can get in and out when he pleases.
Guns – water and the BOOMCo Madness Rapid Blaster – good for helping with his hand development.
The trampoline – this is an all year round thing that helps but our 14ft trampoline is great for him.
Ice – we made some frozen Lego shapes, great for his sensory needs.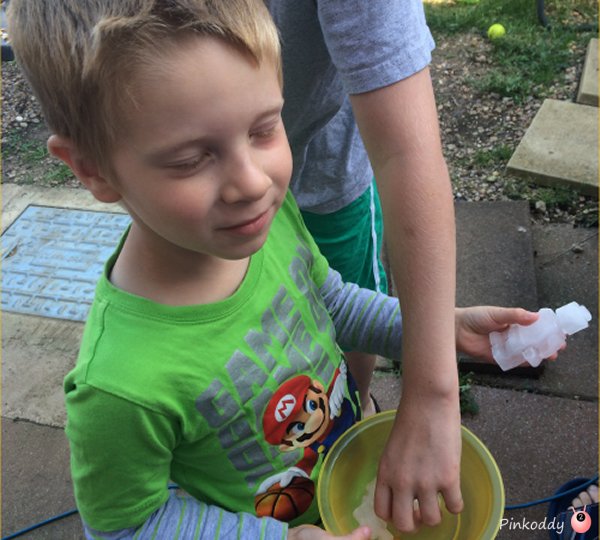 Cardboard boxes – squeezing into a tight cardboard box was good, and he loved that he was able to destroy it afterwards.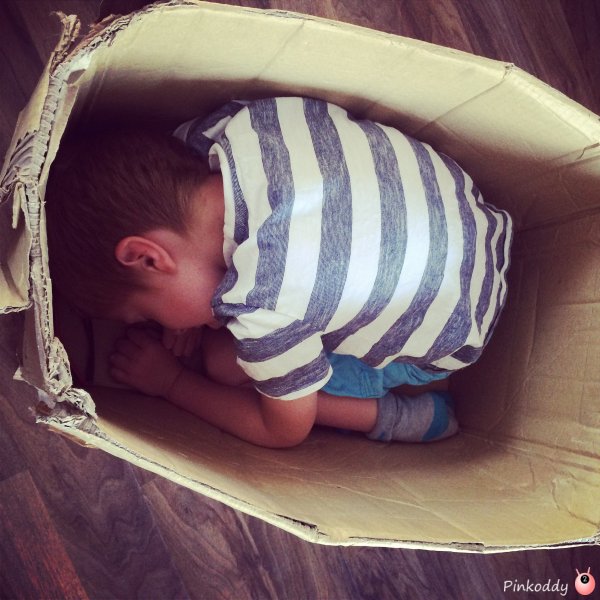 Chocolate milkshake – this has been a big bartering tool this summer.
Picnics – I think he prefers cold food and he has loved the variety of a picnic. Plus with it not being hot food he can eat when he wants to. Particularly successful was when we made a last minute decision to take some jelly on a picnic.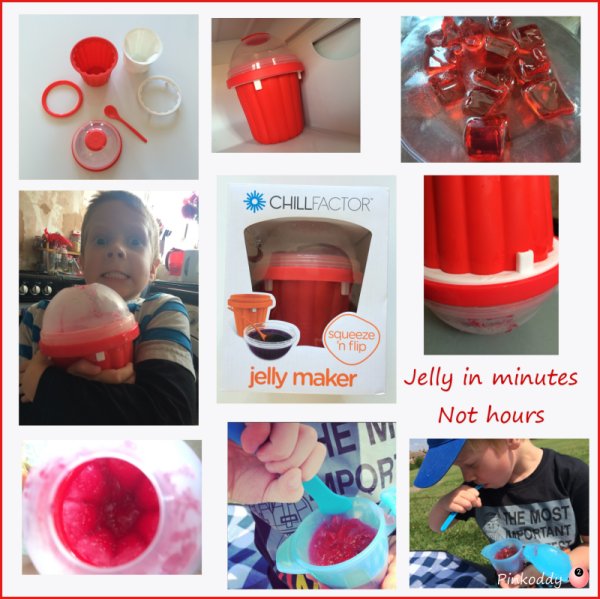 Luckily we have a chill factor jelly maker that makes jelly in minutes and not hours. Following on from the success of Character's Chill Factor Slushy and Ice Cream Makers they have now bought out a Jelly one! Simply leave in the freezer (minimum of 6 hours) and then when you want to make Jelly add your mixture and it is set in minutes! You need to use half the amount of water than normal, and you squeeze, squeeze, and squeeze some more. Then after a few minutes flip it over and leave for another minute to set. The jelly maker is suitable from 5 years (although they will need someone to make the jelly mixture). We found that it was really good for our five year old Sensory Seeker's hand development. I am always forgetting to make the jelly so this is just perfect for me. Or for my impromptu visits to the park with a jazzed up picnic.
Not worrying about bedtimes – we will suffer later no doubt but whilst the sun is shining late at night and there is no school we have been much more relaxed about what time he (and all the boys) go to bed.
Keeping him active and entertained – using visuals such as alphabet bingo or working through his Gold Stars Starting Maths for the summer gold stars challenge. Children need to keep their education going through the school holidays so they do not forget things. As he is behind his peers I feel that this is particularly important.I picked the lower age book (3-5 years) and think it has been beneficial to both of us to see how easy he seems to be finding it. I feel it has really helped illustrate just how far he has developed in his reception year too (as he is still working towards all but one National curriculum levels and may be moved to P-levels). Each page has a simple activity and it is very visual. It was good for communication as we both discussed things in the book and what was expected of him. He is loving the stickers that he gets as a reward for completing each of the pages too. If he does all 30 then he will receive a certificate too. It has helped me identify that he needs more help/practice with colouring in.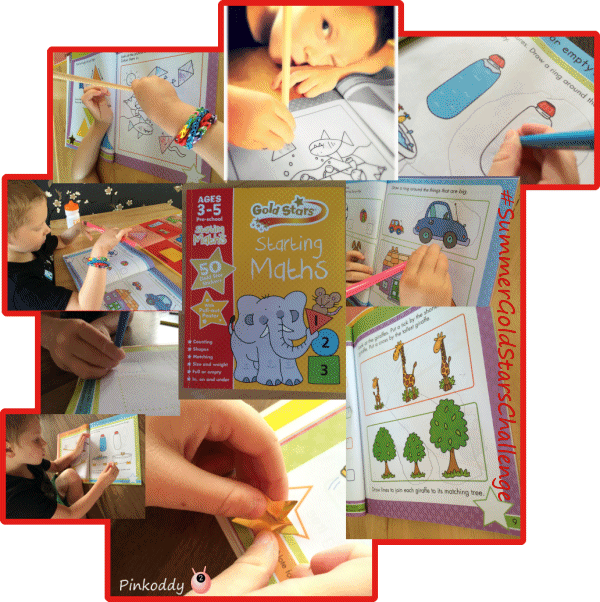 We have also had lots of play, meeting up with others, days out, etc. with much more planned for the rest of the school holidays.
I would love to hear how other people are coping with the school holidays with their child with Sensory Processing disorder. Or any tips/strategies that they use.
We received a free Chill Factor Jelly Maker and Summer Gold Stars Maths book for purposes of review. No other compensation has been given. Words and opinions are my own.