I discovered a great way to make sensory play perfect for my little seeker, with dinosaur ice age play. My son has Global Developmental Delay. He is behind his peers in many areas, so I liked how the dinosaur ice age play really helped him develop. The school have suggested that he has visual aids to help with his communication. They have asked me for input on words/pictures. I really have no clue of what to suggest, all I can think of is maybe a PE bag, a book, paint, so possibly he could show me what he has done that day at school? I do know that play is key to learning, but he has always had a very limited attention span. But I am pleased to say that this is growing in duration, and this was really demonstrated during the dinosaur ice age play.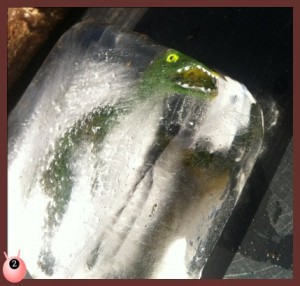 Dinosaurs Interest
Dinosaurs are a firm favourite in this house (see my birthday party) and I have a dinosaur board on pinterest. Whilst pinning I have seen this activity come up time and time again. I do not know who had the original idea to give them credit, but please do see my board for where I was inspired from. It really is simple to create. Put the dinosaurs in the freezer with some water, take them out and then let your child play with them.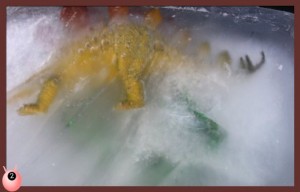 They can smash them open and see how long it takes to get to the dinosaurs out, or wait until the water defrosts. Viola Sensory play dinosaur ice age. We bought a tuff spot (thank you to TheBoyandMe for helping me find one on Amazon) these are brilliant and it was ideal to just sit him in the garden to play.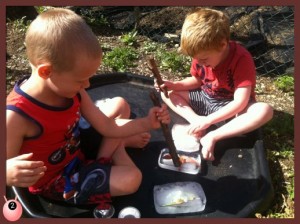 You could try different methods of getting to the dinosaurs. His brother also joined in the play with him and they used sticks, bashed  and smashed the blocks of ice containing the dinosaurs.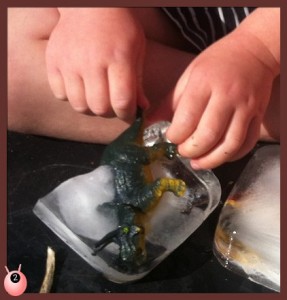 I think there may have been some licking involved too (what else would you expect from my sensory seeker!). He also tried pulling the dinosaurs out  of the frozen blocks, which I think was great for his hand manipulation (he is hyper-mobile in his hands).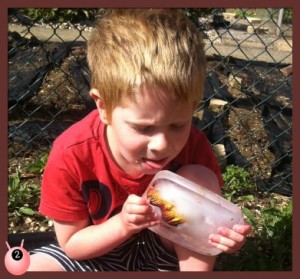 Benefits of Dinosaur Ice Age Sensory Play
Dinosaur Ice Age Sensory Play was great for language development as we talked as we played: He told me it was cold – how clever is that! Then once we had got to the dinosaurs there was time for pretending they were real, and making up little stories. Of course it also helped him meet some of his sensory seeking needs – especially the tactile ones.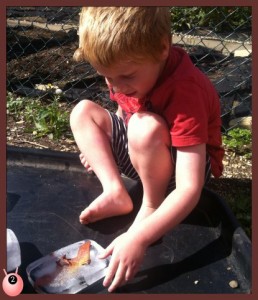 He loved the feel of rubbing his feet on the cold blocks, and when they started to melt, spreading the icy water up his legs.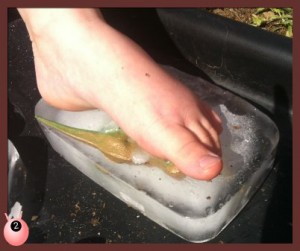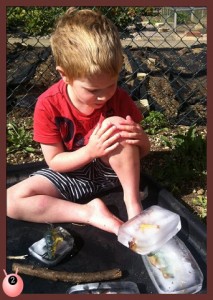 Defrosted Ice
He loved playing with the dinosaurs in the ice and then paddling in the defrosted water – feeling all those lovely sensations.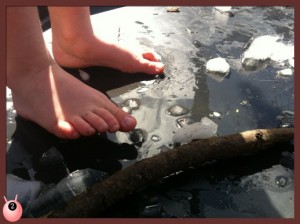 But what I most loved about the dinosaur play was the length of time he was able to engage with the activity. I am sure it really helped him with his development. I think next time I may add some colour to the water too.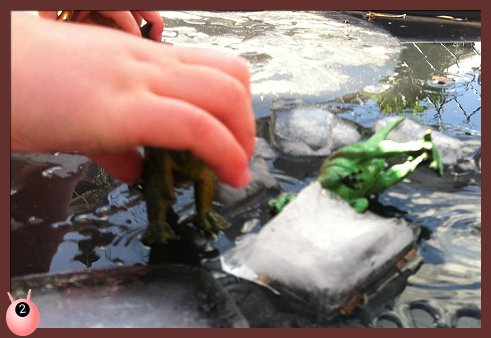 Or may be some extra things like rice to give it more texture.