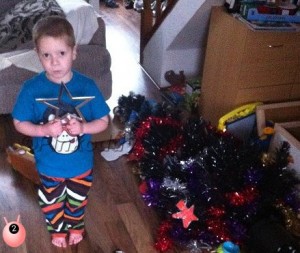 Christmas special needs can make things more difficult. We have learnt that the best way to cope with it, is it to adapt things to fit with our children's needs. My oldest, and now my youngest, son do not like the disruption to the routine (a lot less so for my oldest now, so I feel there is hope for the youngest as he ages). When my oldest was younger Christmas Special needs meant that  he did not like the absence of  doing things he liked at school (such as maths) , and it being replaced by things he did not like such as singing and dressing up. The structure was gone and the visual and auditory stimulation was high. It was such a difficult time that I really could not tell you what happened. It is all a bit of a blur. I remember that I just kept telling myself that his behaviour would settle as soon as Christmas was over, and the routines had resumed (well at least until Easter anyway). This is pretty much how things are for my youngest now. My oldest accepts the change much more easily now (he's 17 years old the end of the month), but just wants to play computer games all the time.
Christmas Special Needs – The Christmas Dinner
Christmas with Special needs is the reason that the Christmas dinner came to happen on Christmas Eve. I really could not cope with an undiagnosed child at Christmas  Special needs ( Aspergers), cooking Christmas dinner and doing all the other Christmas things.  I was a lone parent and he was a fussy eater. Trying to encourage him to stop playing his latest game and come and eat veg was never going to happen. But by moving Christmas dinner to Christmas Eve then I could encourage him to eat with the promise of a visit from Father Christmas. It also meant that it left me free to help him deal with Christmas Day – as I was not in the kitchen cooking.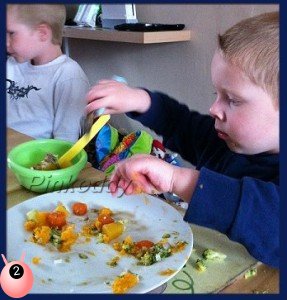 Particularly advantageous if he was getting frustrated with his new toys, as well as being able to sit and encourage him play socially with me. Instead Christmas Day consists of eating foods he likes – picking on cold meat, curry snacks, fruit, chocolate, mince pies, crisps and the like, as and when (a break in the game allows). On a practical note, you can always run to the shops if you have forgotten to buy something too (like my pigs in blankets last year!) It has also become our tradition and I think it has many advantages, not just for children with special needs.
Christmas Special Needs – The Decorations
This year we have gone one step further to help cope with Christmas special needs by having not put up any of the decorations (well we have the odd one or two). We have always put the tree and everything up on the 1st December, but when I noticed my youngest son being more 'spinny,' distant and wetting himself at least daily, and realised that it had happened as soon as the school had their tree/decorations up I decided that we would delay it. One day he was particularly distressed (he's really touching people a lot more) and had to come home from school, I noticed how much he settled in the non-stimulating environment. It is hard, and our 6 year old is desperate for the tree to go up – but we just discussed putting the tree up to our youngest and he went wild and hurt said 6 year old. We had to monitor him for ages after that. Luckily my husband breaks up from work on the 17th so there will be 2 of us around, allowing one to cook and one to look after him, so we are waiting to put the tree up then. If he could not have had the time off we were considering just letting the boys decorate their room (as oldest and youngest have separate rooms) and have a tree in there.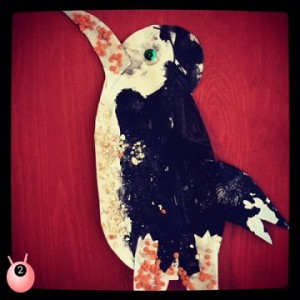 Christmas Special Needs – Aspects of Christmas enjoyed
We thought about the aspects that they do like and those to avoid when considering Christmas special needs. All  the boys have advent calendars – which helps them count down to the big day – so there is still some excitement, preparation for it. We have taken the youngest to see Father Christmas, and got him to talk about what presents he would like. These are the aspects of Christmas that he enjoys, and plenty of dressing up too. He also has his visual aid book at school – so he still knows what to expect, to some extent, at school, and makes it feel structured for him, and let him know how much of the school day is left.
Christmas Special Needs – Rewarding the coping
We are rewarding our youngest with computer time (his favourite activity) at the end of most days, just to help him cope/focus. We are having to really be aware of his toileting, and regularly taking him, as this is an area he is really struggling with during the festive season.  I think it is important to remember that no matter how difficult we may find his behaviour is to deal with, it is a million times worse for him, that it is his inability to cope and anxieties showing.
I have not mentioned Autism in this post as it has been decided that it is not what my youngest son has. I need to write a post about that but really finding it difficult. I do still feel that whether it is consider as Autism or not then the methods used to help him remain the same so have looked on the NAS at their help with Christmas advice.
If anyone else has any help and/or advice on coping with Christmas I would really appreciate them sharing it in the comments.
See also Christmas is coming and my son is getting stressed – over on the Special Needs Jungle – talking about Christmas with her teenage son with Aspergers.