Mousetrap Theatre Projects will be showing a Relaxed Performance of The Gruffalo on Tuesday 4th August 2015 at 2pm, in assocation with Tall Stories and Kenny Wax Family Entertainment. Based on the award winning book by Julia Donaldson and Axel Scheffler, The Gruffalo Live follows the story of Mouse on an adventurous journey through the deep, dark wood…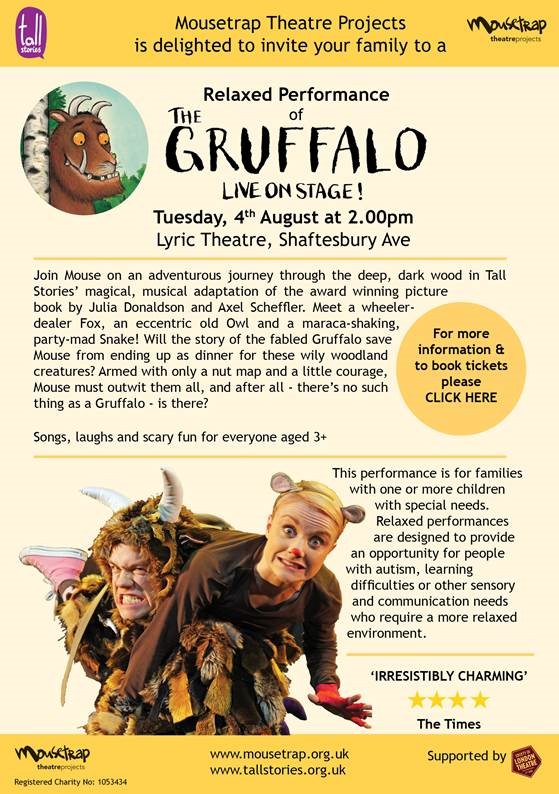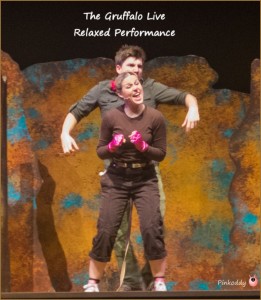 We previously watched a Relaxed Performance of The Gruffalo Live in Birmingham and thought it was amazing. It really brought the book to life, but without being dull, too predictable but not too unfamiliar either.
Relaxed Performances are perfect for those with Sensory Processing Disorder, Autism and other learning, communication and sensory disorders. Not only do relaxed performances have adjustments made to sound and lighting, free resources to help you prepare for your visit and trained volunteers and staff at the event, but they are also keen to adapt the performance, as much as they can, to meet any additional needs. If you have any questions, suggestions or requirements that are not already catered for then let me know please.  I can not only feed them on to the project manager, but other places who are trying to ensure a fully inclusive experience for all.
Unfortunately wheelchair space is very limited and restricted to one carer sitting with the user. There is no level access to the auditorium, nor is there a stair climber. There is the option to book a transfer seat if the individual is able to walk or be carried to the auditorium – again this needs to be arranged prior to the performance.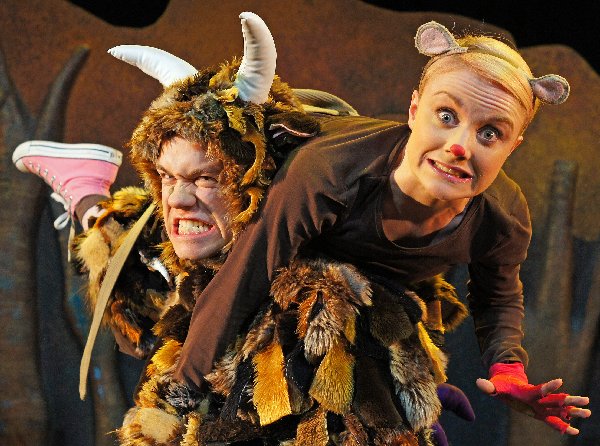 Lyric Theatre, Shaftesbury Avenue
Tuesday 4thAugust
00pm
For ages 3+
Tickets from £12.50 – £2.50
Tickets are in 3 pricing bands
Band 1:£12.50 (Adult) & £7.50 (Child) – These will be in the Stalls or Dress Circle
Band 2: £7.50 (Adult) & £5 (Child)  – These will be in the back or front 2 rows of the Stalls or Back of Dress Circle
Band 3:£5  (Adult) & £2.50 (Child) – These will be in the Upper Circle
Booking Criteria
At least onemember of the group must be a young person with special needs (5 – 23)
HALF or MORE of the group must be young people aged 5 – 17, or 23 for young people with special needs. (Two parents are welcome to bring one child)
Applications from families have to be referred by one of the Partner Organisations (The Sensory Seeker is one of those organisations so if you wish to go please get in touch with myself).
Strictly one application per family, maximum 6 people per application
If you wish to come as a group of families, please fill in one application per family and leave a note in the final section of the application form
MTP relaxed performances are designed to accommodate families to attend the theatre together as a unit – if you are a school or organisation that would like to arrange a group visit then let me know and I will get in touch with the Project Manager).
Tickets are allocated on a first come, first served basis and are subject to availability
This is a charity performance, funded and subsidised to provide access to the West End for young people with special needs and their families.