Sensory Seeker Party Idea
Party planning can be difficult (see my party guide ), with lots of things to factor in. Who are the guests, what is your budget, will they be left, what can they eat, how will you entertain them? When it comes to your Sensory Seeker Party the first thing to think about is what will work for your child. I was really surprised to see how patient my Sensory Seeker was at a recent Wild Kids Reptile Party. In fact it wasn't a party, it was a clever idea of a friend about us all chipping in to entertain our children in the school holidays – that it what such great value it was. We hired a hall and all bought a packed lunch. This is a good idea for a Sensory Seeker Party as there wasn't food on view, until my Sensory Seeker could actually have it.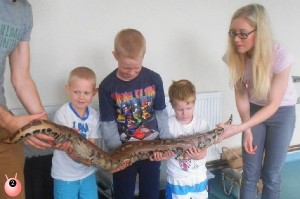 Sensory Seeker Party Suitable guests for Reptiles
Obviously you need to consider who your guests are. I could not see a Sensory Seeker Party with reptiles where there are a whole bunch of Sensory Seekers, as they would not cope in this scenario. Sometimes you need the attendees to be quiet – and those Sensory Seekers who like to make a lot of noise may find this very difficult. Our party had a wide range of ages and it suited them all. I am also not sure how well it would have ran with a lot of very small children – so I would imagine it would suit at least those of school age.
If the children did not want to hold the reptiles they could still just stroke them. The guests had the option for each reptile as to how comfortable they feel with them, and whether they wanted to hold or stroke them. A good Sensory Seeker party will make sure there is somewhere for the guests to go if they really do not like the reptiles, or a particular reptile.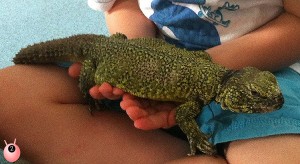 Reptile Sensory Seeker Party Pros and Cons
It was great to see my Sensory Seeker loving all the different textures of the reptiles. This is one of the reasons I think that it would make an ideal Sensory Seeker Party. He had no fear of the reptiles and even wanted to hold the tarantula (which you have to be sixteen years and over to do).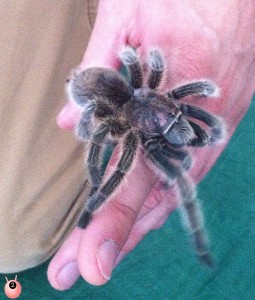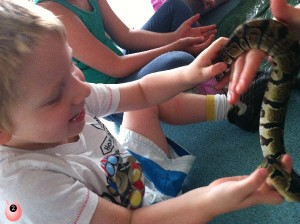 I have to admit that my Sensory Seeker was much braver than me. I found the staff to be fully supportive, and very encouraging of those who were a little apprehensive. I was amazed at how well my son sat quietly, listening and waiting his turn. I think it is also that they come out to you – so you can arrange to have it in a familiar environment, or one that you know really suits your Sensory Seekers needs.
As a Sensory Seeker Party I can see that the biggest problem would be preventing hands going in mouths. The staff had warned the children not to do this and had hand sanitiser for at the end, but my Sensory Seeker kept trying to put it his hand in his mouth. This was simply resolved by me sitting next to my son, and keeping his hands clean with antibacterial gel.
About Wild Reptile Parties
Available throughout Gloucestershire, £120 for a one hour party for hands on educational interaction with some of the world's most fascinating animals without the mess. Wild Kids Reptile Parties bring with them not only all the animals (including friendly snakes, frogs, tortoises, stick insects and leaving behind any you do not want to see), but the protective sheets and hand sanitiser.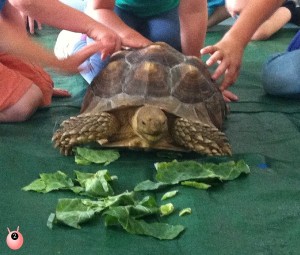 For more information or to book a party please visit http://www.wildkidsreptileparties.co.uk/
This is NOT a sponsored post.