The recipe for a successful Christmas with a child who has Sensory Processing Disorder has to be to understand their needs and fulfil them. Our Sensory Seeker thrives on structure, organisation and routine. Continuing on the theme of teacher gifts this week we made Hot Chocolate Santas. We made them for his brother's teachers and also as a build up to a family night watching Christmas films, eating and drinking chocolate.
Things needed for Hot Chocolate Santas
Hot chocolate powder
Mini-Marshmallows
Cellophane (or food bags)
Glue
Cotton wool
Eyes (googly or stickers)
Red Pompom
Red Paper
Cups
Extras – chocolate drops, chocolate sprinkles, squirty cream, chocolate to eat
Method for Hot Chocolate Santas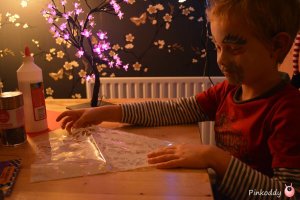 Take the cellophane or food bag and make into a cone shape, secure in place. Take the red paper and roll it around your cone to make a hat. Remove the hat, secure together and glue on some cotton wool to the bottom.
Next fill the cellophane bag with hot chocolate – make sure that the bag has been properly sealed and that the powder isn't falling out.  If you wish you can add some chocolate drops in first – this will make it less likely that the powder will fall through and will not be seen under the hat (as well as being a tasty surprise).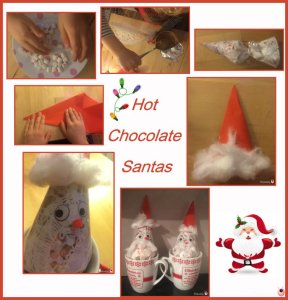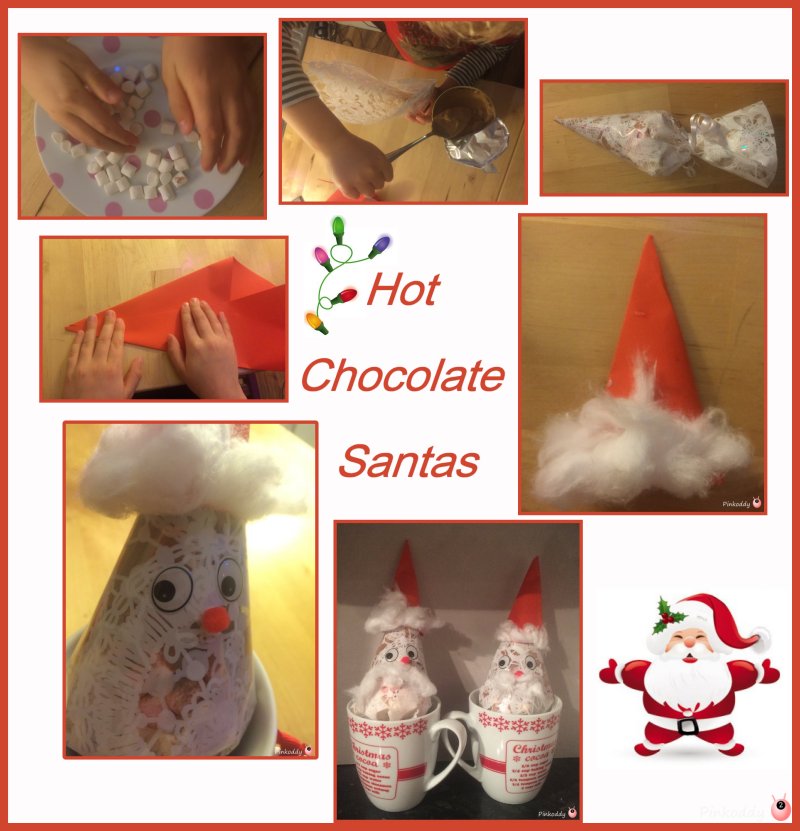 Make sure you have left plenty of room at the bottom to put lots of mini-marshmallows to represent Santa's beard. Then sealed the cellophane closed and tie with a red, white or silver ribbon. Stick on the eyes, the red pompom as a nose and attach some cotton wool as a moustache. Pop your Santa into a mug. When ready tip the cottons into the mug with warm water and add squirty cream and sprinkles. Drink whilst snuggled up under a blanket watching Christmas films with the family.
Benefits of Making Hot Chocolate Santas for those with Sensory Processing Disorder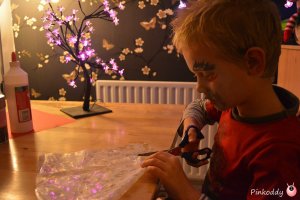 This was beneficial for our Sensory Seeker* because it helped keep him grounded. It was good for his tactile stimulation, hand development, hand-eye co-ordination, fine motor, logic and order (knowing which ingredients to add next) speaking and listening (when asking how to do something), sense of belonging & importance. Of course he really liked the taste too and allowing him to eat the chocolate whilst doing the activity really helped keep him focused/hold his attention to the task.
*Note that The Sensory Seeker is not actually featured in this post but his older brother. the benefits of the activity still apply.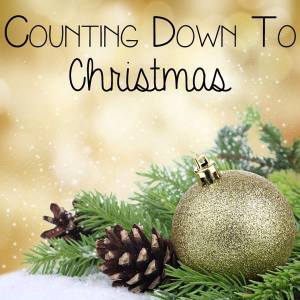 Co-Hosted by Blue Bear Wood ~ Milk, Crafts & Honesty ~ The Sensory Seeker ~ Rainy Day Mum ~ My Little 3 and Me ~ The Gingerbread House ~ Adventures of Adam ~ The Mad House