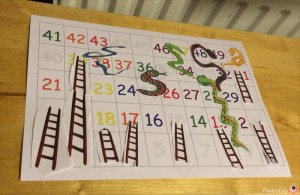 This week saw the start of a new Maths course at the school. The Sensory Seeker is coming along but is still well behind his peers in this area. His brother, who is in the year above, is flying and knows all of his 12 times tables.  So when an opportunity came up for the 3 of us to spend 5 weeks at school on Maths I thought it would be a nice idea for them to help each other. We made a Snakes and Ladders game.
There are some fantastic Number Activities link up to the Weekly Kids Co-op and as it is an area that I am going to be focusing on for over the next month I thought I would share with you some of the posts that have linked up. I think that it is important that children develop not only their mathematical abilities but a love of the subject through the Number activities.
Number Activities from The Weekly Kids Co-op
Counting with Foam Numbers – great for fine motor.
Simple Educational Activities: Money – very good for helping with relating Maths to the every day World.
Math Games: Number Fences – My favourite thing about this is the excuse to eat more lollies!
Counting and Number Recognition: sticky Wall Activity – This is good for hand development too – getting him to flatten his hand up the wall is something the OT told me to do.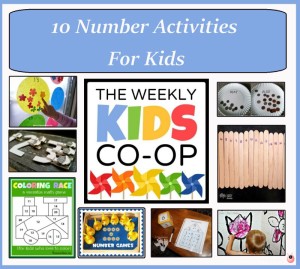 Free Math Fact Houses for Multiplication & Division – There is also ones for addition and subtraction – a good fun way of helping with the basics.
Paint by Numbers in the Shower – I absolutely love this there is no activity more perfect for The Sensory Seeker as it is messy but in an area where he can be cleaned straight away.
Coloring Race – Great idea as it helps with fine motor skills and social skills as well as number.
Hook a Duck – this one helps with hand-eye co-ordination too.
Playdough Numbers – As it is so easy to get different textures and smells into Playdough.
If you have been Featured then please grab the Button.