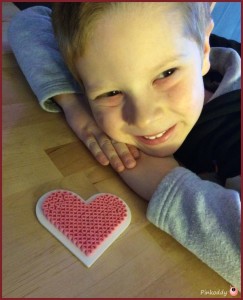 The Sensory Seeker has found going back to school difficult. He's ok when he's at school and just really lets it out when he's at home. I need to keep fulfilling his Sensory needs and keeping him focused. As the next big holiday coming up is Valentine's I decided that we would turn our attention to hearts. We decided to start simply with Hama beads from Craft Merrily.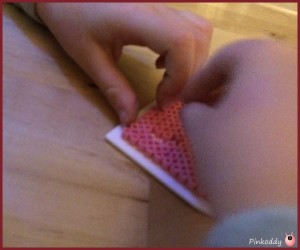 It was really simple in that he just picked out the colours that he wanted and put them onto his heart shaped board. When it was completed the shape was ironed so it stuck together. It was great for his concentration, hand-eye co-ordination and fine-motor skills for a start.
I am keen to do more with him and so took a look at previously linked up Valentine's ideas that we could do together or take inspiration from:
Valentine's Ideas from The Kids Co-op
Valentine's Ideas for Fine Motor Skills
There are lots of activities that involve holding a pencil (etc), cutting and hand manipulation all something that The Sensory Seeker needs to do a lot to help him develop. Here are some of my favourite Valentine's ideas to aid this:
Valentine's Scissor Cutting Skills Activity Tray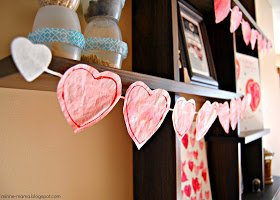 Chalk Heart Stencil Collage
Valentine's Door Banner
Valentine's Paint Chip Bookmarks
Fine Motor Heart Stamping
Coffee Filter Bunting (hearts)
Simple Valentine's Heart Craft
Message in a bottle
Super Simple Valentine Craft
Valentine's Day Love Tree
10 Valentine's Day Activities for Kids for Fine Motor Skills
Valentine's Ideas for Sensory Activities
Sensory doesn't always mean getting your hands dirty but I do like the range of Valentine's ideas that help to explore textures, smells and colours. Obviously The Sensory Seeker likes the stimulation but they are also good for encouraging the Sensory Avoider.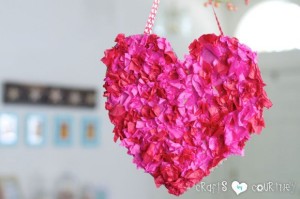 Tissue Paper Heart Wreath
Valentine's Day Stamp Painting
Valentine's Mobile with Tissue Paper Dyed Hearts
Home Made Valentine's Cards with Celery Rose Stamp
Heart Potato Stamping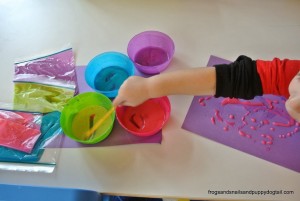 DIY Glitter Puff Paint Valentine's Hearts
Squishy Heart Valentine Sensory Activity
Waterbeads Valentine's Sensory Play
Hearts with Black Glue
Valentine's Cards Using Shaving Cream
Heart Sensory Collage
Heart Sun Catchers
Valentine's Day Goop Painting
Valentine's Tin Foil Painting
Valentine's Glittered Hearts
Valentine Playdough Mats
Valentine's Role Play: Making Felt Mail with free printable pattern
Making Beeswax Valentine's Candles
Valentine's Nature Suncatchers
Valentine's Day Prints
Squishy Heart Valentine's Card
Kids Pizza Making for Valentine's Day
Valentine's Ideas to Develop Thinking Skills
I liked the activities that could help develop the brain and help The Sensory Seeker with his thinking skills: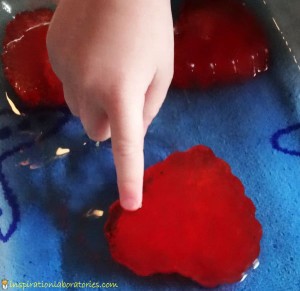 Valentine Craft Printable – Bee Mine  – I think this is a great activity for sequencing. I feel it is simple enough for The Sensory Seeker to put together by himself, but difficult enough for him to think about the order in which to do it.
Simple Valentine's Day Science for Kids
Valentine Sensory Sink
Valentine's Science: Frozen Vinegar Hearts
Valentine Sudoku Printable
Mirror Kids Play for Valentine's Day
25 Valentine's Day Books for kids
Valentine's Ideas for Gifts
With another half-term coming up you may want to make thank you gifts for someone who has helped. Or just generally making gifts helps to teach about kindness and gives the opportunity to talk about feelings: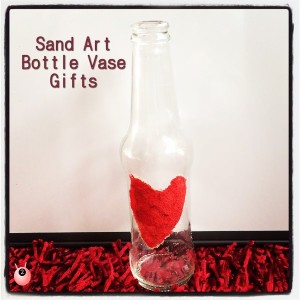 Valentine's Keepsake (Bookmark)
Flower Gift Craft
Valentine's Day Gifts: Pipe Cleaner Pencil Toppers
Hearts and Flowers Home Made Gift